David Ebony—
The 2013-2014 season was a banner year for contemporary art in many ways. The period, spanning early fall through late spring, saw numerous art-world milestones, with museums and galleries expanding and enjoying record attendance while the art market blasted through the roof. The broad range and high quality of New York museum shows of contemporary were particularly notable, bookended by ambitious and well-received career retrospectives for Mike Kelley at MoMA PS1 last fall, and Jeff Koons, currently on view at the Whitney, the museum's final exhibition on Madison Avenue before relocating to its new downtown building. In the marketplace, the big art fairs, such as the Armory Show and Frieze, flourished, while auction houses chalked up record sales. Christie's pulled in an astounding $745 million at its evening auction of contemporary art on May 13, the largest tally for any art sale in history. At a Christie's sale last fall, Francis Bacon's triptych portrait of Lucian Freud fetched a staggering $142.4 million to become the most expensive work ever sold at auction.
Against this feverish background, New York galleries buzzed with some top-notch exhibitions. More Lower East Side spaces blossomed and Chelsea and uptown openings were consistently packed, as dealers vied for audience attention and collectors' dollars. As new artists emerged on the scene, some well established figures presented their best work in years, including, to name just a few, Richard Serra at Gagosian, Terry Winters at Matthew Marks and Kiki Smith at Pace, the venerable gallery that also, unfortunately, presented what many critics regarded as the season's worst show, James Franco's New Film Stills, featuring photos mimicking Cindy Sherman's famous Untitled Film Stills series from the late 1970s.
Some artists managed to stay in the limelight without the help of a gallery or museum show. There was Marina Abramovic—again!—in her autobiographical Robert Wilson-directed stage show, presented last fall at the Park Avenue Armory. My favorite such non-art art event of the season was the debut of Matthew Barney's epic, nearly 6-hour film River of Fundament (2014), which had a limited run at the Brooklyn Academy of Music in the midst of a particularly nasty winter. I trudged through a blizzard one evening for a screening and expected to stay for just a couple of hours. Instead, I found Barney's mind-bending ancient Egyptian fantasy mesmerizing, and even after six hours I was sorry to see it end.
It's difficult to pinpoint exactly what made this season special, but an overview of ten unforgettable moments might help. I have highlighted below some of the exhibitions and art events that made an impact, a number of which are still on view. Most are more or less within New York City's orbit, although some on the list required forays into the outer reaches of the tri-state area: New Jersey, Pennsylvania and upstate New York.
1.) Kara Walker at the former Domino Sugar Factory, Williamsburg, Brooklyn through July 6.
Kara Walker's first public artwork is a remarkable achievement. Sponsored by the non-profit public art organization Creative Time, Walker installed a giant sphinx-like sculpture made of white sugar that commanded the cavernous space of the derelict and soon to be demolished Domino Sugar Factory in Williamsburg, Brooklyn. In keeping with her ongoing and provocative exploration of the history of racial conflict in the U.S., A Subtlety, or the Marvelous Sugar Baby depicts a crouching nude female figure with a do-rag-adorned "mammy" face and wildly exaggerated breasts, buttocks and labia. Accompanied by a group of male figures in resin covered in molasses and brown-sugar, the monumental work alludes to the development of the sugar trade and its and historical and complex relationship to slavery.
2.) Alibis: Sigmar Polke 1963-2010, at the Museum of Modern Art, through, Aug. 3.
Anyone familiar with the work of German artist Sigmar Polke, who died in 2010, age 69, knows that it has had a major impact on the work of younger generations of artists. Just how and why this is so is evident in this sprawling and stunning retrospective co-organized by MoMA and Tate Modern, London, where it travels next fall. In a wide array of works ranging from large-scale paintings, sculpture, film and video, Polke's brilliant and eccentric personality emerges, and the work engages with formal and social concerns that seem as fresh as anything being produced today. In a relentless and fearlessly personal exploration of materials and expressive means, Polke never pandered to art audiences or the market place, yet his achievement clearly has universal appeal.
3.) Ragnar Kjartansson at the New Museum, New York (May 7-June 29).
"Me, My Mother, My Father and I" was the memorable New York museum debut for Ragnar Kjartansson. Born into a theatrical family, whose parents were actors, the Icelandic artist is known for effectively melding video and live music in his installations. For this show, he used several film clips projected on three screens. One, a 1977 film starring his parents in a torrid sex scene, was the basis for a song played constantly by 10 guitar-strumming musicians lounging on mattresses and chairs in the center of the room. Performed live each day of the show's run, the strange serenade made a bold statement about familial relationships while immersing the viewer in a rather unfamiliar environment located somewhere between fantasy and reality.
4.) Nick Cave at Jack Shainman's "The School," in Kinderhook, New York, open by appointment through August.
Well worth a visit to upstate New York's bucolic Hudson Valley, The School is a new exhibition and performance venue conceived by Chelsea-based gallery Jack Shainman. Located in a former high school building, The School is an excellent example of the pioneering satellite spaces being developed by several of New York's more successful galleries to reach art audiences far afield of Manhattan's congested art districts. The 30,000 square-foot, airy and light-filled venue is an ideal place to view this extensive survey of Nick Cave's colorful Soundsuits, body-covering, wearable sculptures made of elaborate textiles and sculptural embellishments. While all of the Soundsuits in the exhibition are presented on sculpture stands, it was possible to see similar pieces in action during the opening day performance, in which a dozen or so performers in outlandish outfits thrashed about on an outdoor stage to the beat of tribal rhythms.
5.) Katharina Grosse "Psycholustro," Philadelphia, through September.

Katharina Grosse's seven-part outdoor public art project along the Amtrak and local train tracks in and near Philadelphia is a unique experiment in participatory and kinetic art. In this case, however, it's the viewer who is moving and not the art. The works are visible only from the trains, and passengers are required simply to look out the train window periodically. One can see that she covered buildings and vegetation at seven separate locations along the tracks with her trademark Day-Glo hues and graffiti-like abstract gestures (in non-toxic, environmentally friendly spray acrylic). As a passenger on one of the heavily trafficked Northeast Corridor trains, it's a rather hallucinatory and unforgettable experience to catch a glimpse of these otherworld landscapes as the train speeds by.
6.) Italian Futurism 1909-1944: Reconstructing the Universe, at the Guggenheim Museum, New York, through Sept. 1.
The first comprehensive survey of Futurism in the U.S., this mammoth curatorial effort redefines the movement. Inspired by F.T. Marinetti's 1909 Futurist Manifesto, practitioners of Futurism aimed to create new art forms that would celebrate the advances of industrialism and the triumph of the Machine Age. Organized by the museum's senior curator Vivien Greene, the show contains over 300 works in a variety of mediums, from painting and sculpture to ceramics, furniture and fashion. To her credit, Greene did not shy away from addressing Futurism's problematic political stance, and the Fascist sympathies that some of these artists expressed in the years leading up to World War II. Well-known Futurist masterpieces are here, but in its inclusive and uncompromising view, the exhibition also highlights artists such as Giovanni Acquaviva, Gerardo Dottori and Fortunato Depero, whose fascinating works were, until now, rarely seen in this country.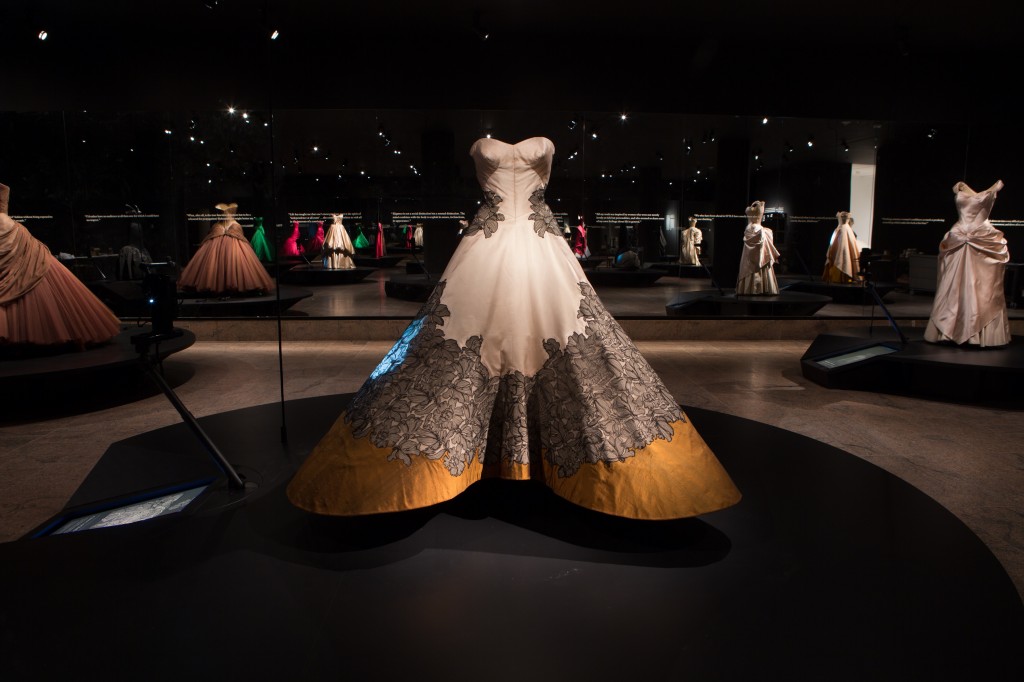 7.) Charles James: Beyond Fashion, at the Metropolitan Museum, New York, through August 10.
Elegance and glamour are synonymous with the high-fashion look Charles James created for women in the 1940s and '50s. The British-born U.S. designer, who died in 1978, was a troubled soul, but you would never know it from the idealized clothing made of sumptuous fabrics and refined construction for which he was renowned throughout his career. Curated by the Met's Harold Koda, and designed by architects Diller, Scofidio and Renfro, this unique exhibition and its accompanying catalogue constitute an in-depth examination of James's work spanning nearly four decades. One of the most unusual aspects of the survey, divided into two sections on the museum's first floor, is the use of high-tech video cameras on movable armatures that focus on certain areas of each piece. By means of computer graphics, a monitor at the base of each display shows a detailed analysis of the garment's design and construction.
8.) Robert Smithson's New Jersey, at the Montclair Art Museum, New Jersey (Feb. 22-June 22, 2014).
An outstanding example of the tightly focused and scholarly exhibitions offered this season by many regional museums—this one located within easy reach of New York City—this show examined the seminal works that Earth Art pioneer Robert Smithson (1938-1973) created or conceived of in New Jersey, his home state. Co-organized by independent curator Phyllis Tuchman, who had been a friend of the artist, and the museum's chief curator Gail Stavitsky, the exhibition included some major loans and rarely exhibited New Jersey-themed pieces. On view were early sculptures, installations, photo works and map pieces related to the environs of Montclair and nearby Passaic, where Smithson was born. A wide variety of documentary material also helped illuminate the evolution of one of the 20th century's most original and provocative artists.
9.) 2013 Carnegie International, Pittsburgh (Oct. 5, 2013-March 16, 2014).
This striking show, co-organized by curators Daniel Baumann, Dan Byers and Tina Kukielski, seemed to have its pulse on the contemporary art scene in a more credible and succinct way than the concurrent Whitney Biennial. There were certain similarities, for instance, in the fact that both exhibitions were organized by a trio of curators. But the Whitney's focus seemed to be on the curators themselves, each of whom presented separate exhibitions on separate floors. Highlighting works by 35 artists from 19 countries, the Carnegie International was a smaller show but far more cohesive. Major offerings by Phyllida Barlow, Sadie Benning, Vincent Fectau and Sarah Lucas, Taryn Simon, Nicole Eisenman and others were shown in depth and brought to the fore a range of formal and conceptual concerns—socio-political issues, sexual identity and feminist politics among them. While visually appealing, the exhibition as whole conveyed a sense of urgency and resonating meaning.
10.) Come Together: Surviving Sandy Year One, at Industry City, Sunset Park, Brooklyn, New York (Oct. 13, 2013-Feb. 2, 2014).
Held in a 100,000-square-foot former industrial building, this vast exhibition was an extraordinary community and curatorial effort. Sponsored by the Dedalus Foundation and curated by artist Phong Bui, publisher of the art journal The Brooklyn Rail, the exhibition centered on the hundreds of artists and galleries affected directly or indirectly by the devastation wrought by Hurricane Sandy in October 2012. Tasteful installations throughout the multi-storied building featured works by artists such as Chuck Close, Lynda Benglis, Ray Smith, Deborah Kass, Mel Kendrick and Diana Cooper, to name just a few, some of whom lost substantial amounts of work in the flooding that followed the storm. Aside from bringing awareness to the impact of this natural disaster on the cultural life of the city and environs, the exhibition itself constituted a unique and thoughtful compendium of the contemporary art scene.           
---
David Ebony is currently a Contributing Editor of Art in America magazine. Among his books are Anselm Reyle: Mystic Silver (2012); Carlo Maria Mariani in the 21st Century (2011); Emily Mason (2006); Botero: Abu Ghraib (2006); Craigie Horsfield: Relation (2005); and Graham Sutherland: A Retrospective (1998). He lives and works in New York City.