Ivy Sanders Schneider –
When you encounter some of Wassily Kandinsky's early works, it can be hard to remember that this artist – who began his career with bright, folk-art inspired, post-impressionist landscapes – would become one of the first true abstract painters.
Although his early style was quite illustrative, from 1906 to 1908 Kandinsky traveled Europe, settling in Munich in 1909 where he founded the Munich New Artists' Association. While this organization quickly dissolved, during that time Kandinsky underwent an artistic and theoretical transformation, which continued with his founding of Der Blaue Reiter group (The Blue Rider) in 1911 with a collection of Russian and German artists. Der Blaue Reiter was founded the same year he published his critical work Concerning the Spiritual in Art, and during this three year period, Kandinsky's works became observably more abstract, and his theories relating to music and color became increasingly refined. This change was due in no small part to Kandinsky's personal and professional relationship with Gabriele Münter, a cofounder of Der Blaue Reiter, and an avant-garde expressionist painter whose own artistic evolution influenced Kandinsky's, and whose life and collaboration with him is recorded in Bibiana K. Obler's new book, Intimate Collaborations.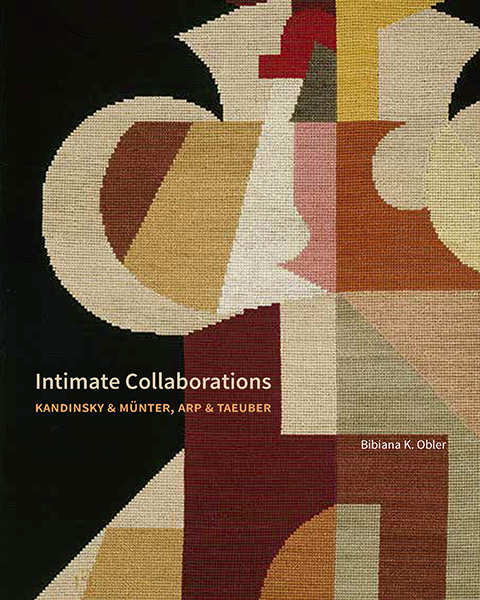 Kandinsky's early-period paintings rarely included figures, which perhaps allowed for a smoother transition into full abstraction. Instead, his illustrative works included recognizable forms: skies, buildings, and trees blocked out in heavy, occasionally pointillist brushstrokes. His horizons were often painfully blue – from aquamarine to turquoise, his clouds heavy and tinged with yellow, his buildings ochre, with deep navy shadows, such as in Munich-Schwabing with the Church of St. Ursula (1908) or Der Blaue Reiter (1903). In slightly later paintings, hints of recognizable objects remain, in Improvisation 27 (Garden of Love II) (1912), some forms could be a horse, others a mountain, but the literal has been left behind in favor of the rhythm of the brushstrokes. But as his work became increasingly abstract, he did not stop exploring color theory; Yellow, Red, Blue (1925), examines the interaction between those, and other, colors, and Kandinsky often returned to the role of white in his work – On White II (1923), and his seminal Painting with White Border (1913), which is explored in the book Kandinsky and the Harmony of Silence, edited by Elsa Smithgall.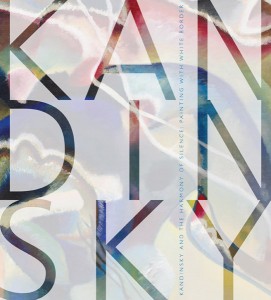 Kandinsky, more than anything, was interested in the emotional impact of art, and the synesthetic interaction of the visual and the auditory – color and music. This fascination accounted for the shift in his work away from the literal, towards a realm tied more closely to music than established artistic thought. Kandinsky believed that color had a deep, spiritual impact on the viewer, writing in Concerning the Spiritual in Art that "colour is the keyboard, the eyes are the hammers, the soul is the piano with many strings. The artist is the hand which plays, touching one key or another, to cause vibrations in the soul."
Kandinsky saw music as the true expression of the artistic soul, and through his use of color attempted to more deeply engage with human emotions. He wrote that a painter "cannot but envy the ease with which music, the most non-material of the arts today, achieves this end. He naturally seeks to apply the methods of music to his own art." And so he did in his own work: Kandinsky worked on several series of paintings that spanned the course of his life, all of which borrowed their titles from musical movements: his Improvisation series spanned from 1909 to 1917, and his groundbreaking Composition series, which spanned from before 1910 to his final Composition X in 1939, used rhythm and forms that seem almost to be visualizations of sound.
According to Kandinsky, "Every work of art is the child of its age and, in many cases, the mother of our emotions." He strove, through his paintings, to induce in viewers the same passionate responses brought about by choirs and symphonies. The new book, Kandinsky: A Retrospective, containing essays by Angela Lampe and Brady Roberts, with contributions by Anna Hiddleston-Galloni and Rachel Milliez, surveys Kandinsky's 50-year artistic career, tracking his progression into abstraction.
---
Ivy Sanders Schneider, a sophomore English major in Yale College, is an art & architecture intern at Yale University Press.