In 1989, esteemed fashion editor for The Washington Post Nina Hyde wrote of Isaac Mizrahi's fall collection for the year: "Everyone is rooting for Mizrahi. Why else would they travel to TriBeCa in lower Manhattan, a $20-plus, half-hour cab ride in traffic, and in the rain, to see the Mizrahi collection? And wait more than an hour for it to begin?"
Hyde was speaking of "Extreme Kilt," which was Mizrahi's riff on the ubiquitous tartan collection present in the oeuvres of Perry Ellis, Ralph Lauren, and Vivienne Westwood. In his exploration of tartan, Mizrahi played with both material (ranging from fine wool to chiffon) and form (a silk plaid parka, for example). In one instance, Mizrahi transformed the traditional Scottish kilt into a strapless, floor-length gown with buckles that trailed up one side of the bust.
Later, Mizrahi created a version of that same gown for Twyla Tharp in Brief Fling, a contemporary performance of the American Ballet Theatre's in 1990. Here, he again remakes tartan, so that the kilt becomes a cropped bodice and men dance in golf-knickers with grosgrain waistbands. Movement and performance have always been integral to Mizrahi's works, his background, and his inspiration. At age 10, he recreated the Stephen Sondheim musical Follies through puppet-theater; at age 40, he received the 2002 Drama Desk Award for Outstanding Costume Design for a Broadway revival of Clare Boothe Luce's The Women.
"Rabbit Ears," a pale dress beaded with swirling hexagons from the Fall 1990 show, proves that active performance for those who don Mizrahi's works is not limited to stage performers alone. Inspired by a fitting for Tharp's Brief Fling in which Mizrahi observed a dancer shrug off her clothes, "Rabbit Ears" requires the wearer to keep the straps in place by holding the shoulders taut.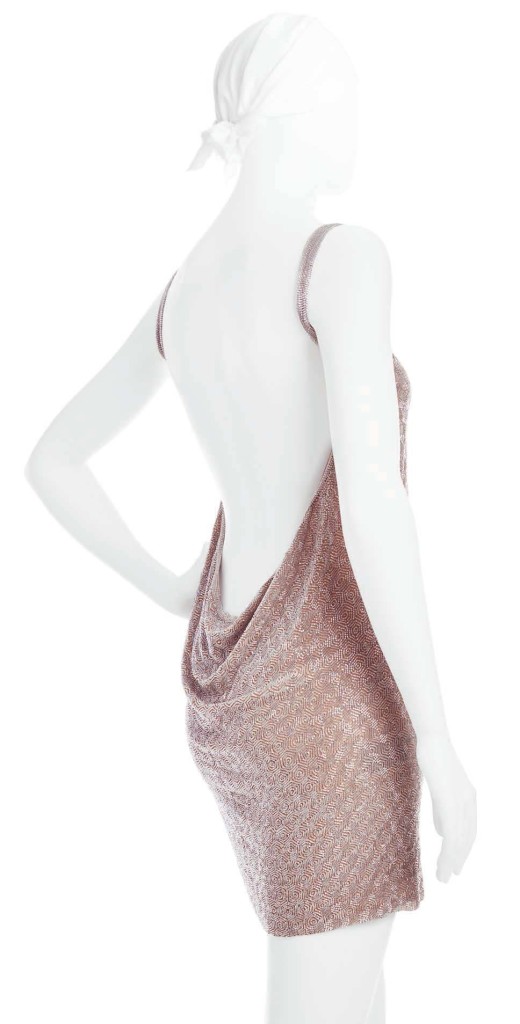 Isaac Mizrahi, the book associated with the current exhibition at The Jewish Musem (Isaac Mizrahi: An Unruly History), is a beautiful, exceptionally illustrated tome by Chee Pearlman with essays by Lynn Yeager, Kelly Taxter, and Ulrich Lehmann.  It is a testament to Mizrahi's creativity, exuberance, and playfulness that have been hallmarks of his artistic output across genres, and certainly throughout his prolific career as a fashion designer.  The following is an excerpt of an interview between Isaac Mizrahi and Chee Pearlman, conducted in the spring of 2015 (printed in its entirety in the book); it's insightful, and funny, and gets at the heart of Mizrahi's unique combination of talent, humor, and whimsy.
---
Chee Pearlman: What do you think sets you apart from your contemporaries, designers like Marc Jacobs and Michael Kors?
Isaac Mizrahi: I think humor sets me apart. I thrive on self-mockery. A lot of designers out there have to take it all really seriously. It's one thing, I think, that stands in the way of my own immediate progress. Most times, when I see people on the worst-dressed list I think they look great—and vice versa. It's a tough line to hold, a delicate line to walk. I remember when Sarah Jessica Parker would show up in crazy-looking things and look amazing and get voted worst dressed. And now it's de rigueur.
CP: Yes! There are fabulous examples of your sense of humor in these pages. From the Tee Pee collection to the Beast Coats, the Tote Hats—you weren't holding back.
IM: I had the best time doing those collections. Those were the most exciting days of my life as a designer. I think that the ability to laugh at myself still sets me apart. I don't understand people without humor, and I just don't like certain things because they have no humor. Like when you walk into some boutiques and they feel like mausoleums, with rows of rigid black handbags. I talk a lot about being funny, being whimsical. But it's also about elegance, which is just as important to me. My idea of elegance comes more from nature than from other clothes. Women I looked up to. When I was sixteen my sister gave me the catalogue from the Metropolitan Museum's Richard Avedon show, which was going on then, and my eyes were opened. Those women were elegant because of a kind of composure. And no matter how artificial, they always referred to something natural. A natural asset. Long throat. Slim arms. Beautiful legs that were set off by wonderful shoes. And a wink. That's the humor. I think humor was in short supply in the American fashion arena. There was nobody who could be smart and funny.
CP: Earlier, you mentioned scavenging as a form of style. Part of your wit, your whimsy has to do with the way you absorb and reinvent cultural or historical ideas.
IM: I start with a gesture and run with it. And as I've said before, sometimes I have no idea where the gestures come from. Sometimes it's a show I've seen, or a painting. That's the most exciting part of the process: the beginning. The first glance at something new coming out of your pencil onto the paper. I can't say more 'cause it happens on a case-by-case basis. No two collections are alike. The building, the fleshing out of ideas.
CP: Were your designs influenced by what was happening in the arts at the time?
IM: To some extent, yes. But mostly I thought of them as things to wear while you were looking at art. Or while you were at a party surrounded by art. I never thought of my clothes as "art."
CP: You've said that you learned a lot from the graphic-design provocateur Tibor Kalman. What resonated with you in his work, his approach?
IM: He was always one of my best critics, but also a cheerleader at the same time. He was hypercritical, weirdly smart—smarter than anybody, and a great, funny guy. He was a counter-thinker, which is something we shared. If you said black, he'd say white. It's like my dog, Harry. If you tell him to come, he goes. Tibor was full of humor too. And was fearless in that way. He demanded a high level of honesty and could see through any lie. I felt comfortable with him because I too was sensitive to bullshit.
CP: After you shut down your designer label in 1998, you chose to follow so many different paths of creativity—you're a performer, writer, musician, director. You're working in dance, theater, opera. And of course you've been a celebrated designer for Target, and now you have the Isaac Mizrahi Live! show on QVC. Do you miss the world of high fashion?
IM: Occasionally I wish I were doing that again because I'll have an idea for the most major, amazing coat or ball gown or handbag in the world. Or the craziest shoe you've ever seen. (It always starts with a shoe!) And I'll wish I were back. But you can't do that; it doesn't work that way. This industry expects you to stay on the treadmill, doing it every single day. I can't do that—to me it feels redundant. I have been praised but also punished. And it's because I didn't necessarily see this as a labor of commerce; I saw it as a labor of love. I am a true amateur, a person who works from a position of love, which is the meaning of that word. I approach everything, all my projects, from that perspective, from the perspective of an amateur.
---
Join the conversation on social media with #IsaacMizrahi.
About Isaac Mizrahi
Isaac Mizrahi was born in 1961 in Brooklyn, New York. Raised in a Jewish family, he attended the Yeshiva of Flatbush before transferring to New York City's High School for the Performing Arts and then Parsons School of Design. He entered the New York fashion scene in the late 1980s; his clothing line, Isaac Mizrahi New York, debuted at Bergdorf Goodman in 1986. In 1989 he received the Perry Ellis Award for Emerging Talent and was named Council of Fashion Designers of America (CFDA) Womenswear Designer of the Year, an award he won again in 1991. Unzipped, a riotous, witty, and insightful documentary about the making of his fall 1994 collection, earned Mizrahi and the director, Douglas Keeve, the 1995 Audience Award at the Sundance Film Festival. When his fashion house closed in 1998, Mizrahi followed other passions in theater and dance, designing costumes and sets for Mark Morris and Twyla Tharp and winning a 2002 Drama Desk Award for Outstanding Costume Design for a Broadway revival of Clare Boothe Luce's The Women. In 2003 he was the first fashion designer to launch a line of well-designed, affordable clothes in collaboration with Target.
Today he stars in Isaac Mizrahi Live!, a call-in home-shopping TV show that airs weekly on the QVC network. He also appears as a judge on Project Runway All Stars. Mizrahi has directed and narrated "Peter and the Wolf" at the Solomon R. Guggenheim Museum, directed and designed "The Magic Flute" and "A Little Night Music" for the Opera Theatre of Saint Louis, and worked the red carpet at the Oscars and Golden Globe Awards. He is currently at work on a television series and memoir.
About Chee Pearlman
Chee Pearlman is the director of Chee Company, Inc., a New York-based consultancy that creates books, conferences, exhibitions, and awards programs. Her career began in publishing as Editor-in-Chief of I.D. Magazine, a design publication, where she was honored with five National Magazine Awards. As a journalist, Chee has written for The New York Times, Newsweek, Domus, Wired, Travel + Leisure, and Architects Newspaper. She is editor of "Spectacle" (Phaidon), with David Rockwell and Bruce Mau, among many other books, and the curator of the acclaimed exhibition "The Voting Booth Project: Where Design and Democracy Collide," at The New School during the 2004 political campaign. Chee is a guest curator for the TED conference, bringing designers and architects to the TED stage. Chee served as Program Director for the Art Center Design Conference from 2004-2008, directing a series of groundbreaking international conferences. She is the founding curator of the Curry Stone Design Prize, an international $100,000 award that recognizes designers creating social impact solutions, and was the founder and co-director of the Chrysler Design Prize for its 10-year duration, from 1993-2003. She is the recipient of a 2011 Loeb Fellowship at Harvard Graduate School of Design.