From our colleagues at The Metropolitan Museum of Art, here's a great interview between Rachel High, Publishing and Marketing Assistant in the Met's editorial department, and Sabine Rewald, curator of the exhibition Max Beckmann in New York, which you can still see until February 20th, 2017.
New York energized the German Expressionist Max Beckmann and stimulated his imagination when he lived here from September 1949 to December 1950. Max Beckmann in New York, the book and the exhibition, focuses on 40 beautifully illustrated works that Beckmann painted in New York during the last 16 months of his life, as well as earlier works from New York collections.
The book includes an informative and accessible essay by Curator Sabine Rewald, as well as detailed catalogue entries for each work and generous excerpts from the artist's letters, diaries, and ephemera, illuminating Beckmann's difficult and tumultuous life and making this an essential volume for anyone interested in the artist. Rachel had the opportunity to speak with Sabine about the inspiration for the catalogue, the devotion of Beckmann's wife Quappi, and the artist's refusal to interpret his work to others.
Rachel High: The inspiration for this book and exhibition is a bit unusual. Could you speak about what inspired you to tackle this subject?
Sabine Rewald: It is very unusual. The artist died on his way to our museum. What inspired me was not only that he died, but also the circumstances: he wanted to see his self-portrait in The Metropolitan Museum of Art's exhibition American Painting Today. He had a heart attack during his walk there. I don't know that many other artists died on the way to The Met, but I thought this deserved an exhibition. The show takes place 66 years after he died at the age of 66.
The book also includes paintings from other periods of his life that are in New York collections. Beckmann had two dealers who supported him, J. B. Neumann and Curt Valentin, both from Berlin. They came to New York in 1923 and 1937, respectively, and sold works to New York collectors. Generations of New Yorkers have bought Beckmann, so this book is like a mini-retrospective, covering his work from the 1920s to 1950s.
Rachel High: As you've just mentioned, the book includes works made by Beckmann while he was living in New York as well as works in New York collections. He didn't live here for very long, but what role did the city play in Beckmann's reception as an artist?
Beckmann's work was not much in demand at that time. While he was in voluntary exile in Amsterdam, people admired him for his heroic stance. After a few years in the United States, sales did not go so well. To subsidize his artwork, he taught at the Brooklyn Museum Art School and, in September 1950, he took on an additional teaching position at an art school at West 130th Street. The job did not last long. The school went bankrupt in mid-November. So, being in New York was more for his mental well-being than for his career.
Rachel High: The book delves into Beckmann's relationship with his second wife Quappi. It is relatively rare for an artist's wife to be discussed at length in an art historical text. Could you discuss why you think Quappi's story is essential to Beckmann's story?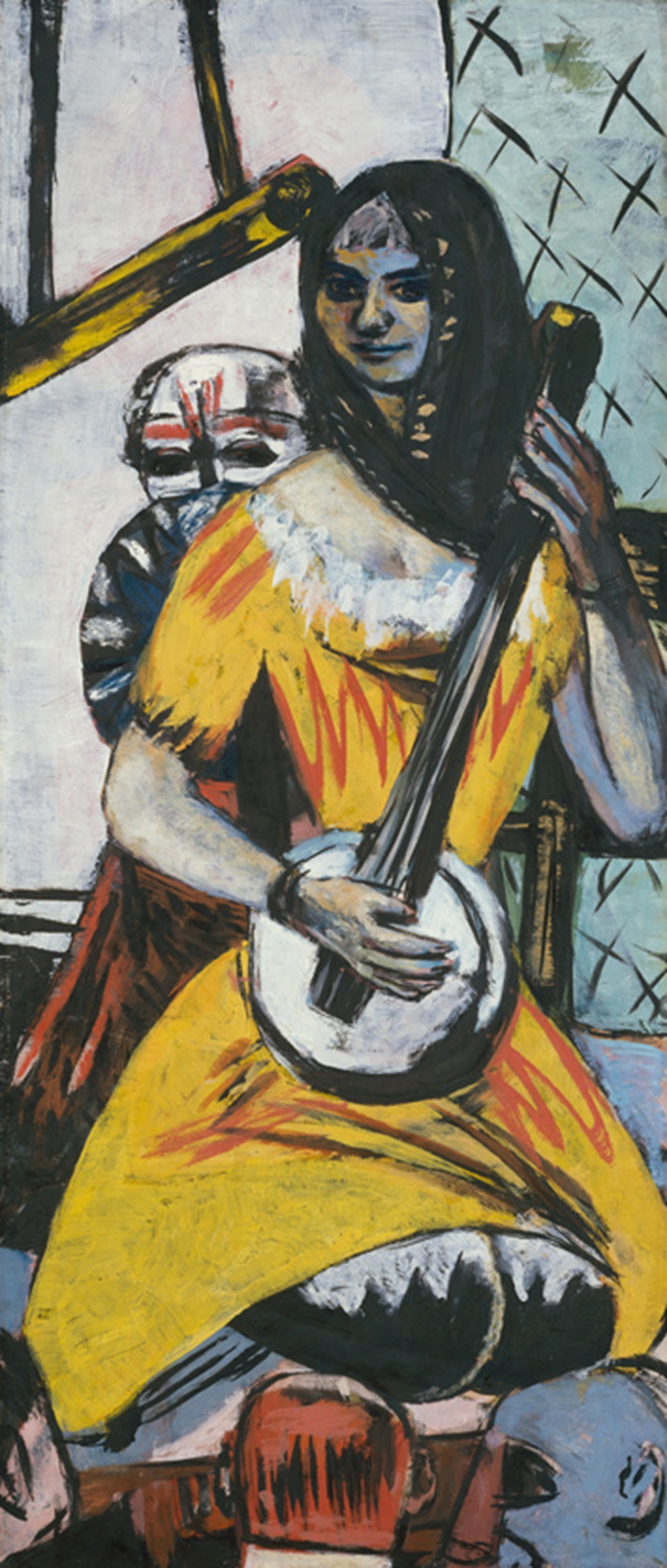 It was easy for the first years of their marriage— when Beckmann was at the height of his career in Frankfurt—but less so in 1933 when Hitler came to power and Beckmann left for greater anonymity in Berlin. In 1937, when his work was called degenerate and confiscated, he exiled himself in Amsterdam and things were even more difficult. She stuck with him through thick and thin. What is most amazing is that after Beckmann died, Quappi lived for another 36 years in New York. I asked her granddaughter, Mayen Beckmann, why Quappi stayed in New York. She was German. Her family had a wonderful house in Bavaria near Murnau. Why did she not move back? Apparently Quappi felt that somehow Beckmann's spirit was still in the apartment. She would dream of him and talk with him in her sleep, so she had to stay in the city.
Rachel High: A common thread in your past publications is that they include excerpts from the artist's letters, journals, and other writings, and this book is no exception. How do Beckmann's writings to help the reader understand him and his work?
Sabine Rewald: His writing sheds not a single light on his paintings. He hated to have to interpret his work. When The Museum of Modern Art was thinking of buying Max Beckmann's first triptych, The Departure, which is in the catalogue and the exhibition, Curt Valentin was asked by director Alfred Barr to ask Beckmann what the painting depicted. Beckmann liked to mingle the metaphysical with realism and people often cannot make head or tail out of what is going on in his paintings. Beckmann retorted, "well, if he wants to know what's going on just tell him to return the picture." He wouldn't descend to give interpretations. Once he said, pointing to the sky, "only he upstairs knows what's going on." He hated when people asked for the meaning.
Further Reading