Feed your book cravings with a book about book, it's International Book Lovers Day! This list features books about reading books, writing books, studying books, and the history of the book format itself. Book yourself some time to book up in a comfy chair and book out. (How many times we can say book?)
---
The Social Life of Books: Reading Together in the Eighteenth-Century Home by Abigail Williams
A vivid exploration of the evolution of reading as an essential social and domestic activity during the eighteenth century:
Two centuries before the advent of radio, television, and motion pictures, books were a cherished form of popular entertainment and an integral component of domestic social life. In this fascinating and vivid history, Abigail Williams explores the ways in which shared reading shaped the lives and literary culture of the time, offering new perspectives on how books have been used by their readers, and the part they have played in middle-class homes and families.
---
Story Time: Essays on the Betsy Beinecke Shirley Collection of American Children's Literature edited by Timothy Young
The history of children's literature is a growing area of study; this group of essays brings together innovative, scholarly voices to explore the fascinating tales behind many beloved books. The publication mines the Betsy Beinecke Shirley Collection of American Children's Literature, one of the world's richest sources for original books, manuscripts, and artwork. The essays, commissioned for this volume, examine little-known backstories of three hundred years of classic children's literature, from Louisa May Alcott to Langston Hughes to Mo Willems.
---
The Library at Night by Alberto Manguel
Inspired by the process of creating a library for his fifteenth-century home near the Loire, in France, Alberto Manguel, the acclaimed writer on books and reading, has taken up the subject of libraries. "Libraries," he says, "have always seemed to me pleasantly mad places, and for as long as I can remember I've been seduced by their labyrinthine logic." In this personal, deliberately unsystematic, and wide-ranging book, he offers a captivating meditation on the meaning of libraries.
---
Unpacking My Library: Writers and Their Books Edited by Leah Price
As words and stories are increasingly disseminated through digital means, the significance of the book as object—whether pristine collectible or battered relic—is growing as well. Unpacking My Library: Writers and Their Books spotlights the personal libraries of thirteen favorite novelists who share their collections with readers. Stunning photographs provide full views of the libraries and close-ups of individual volumes: first editions, worn textbooks, pristine hardcovers, and childhood companions.
In her introduction, Leah Price muses on the history and future of the bookshelf, asking what books can tell us about their owners and what readers can tell us about their collections. Supplementing the photographs are Price's interviews with each author, which probe the relation of writing to reading, collecting, and arranging books. Each writer provides a list of top ten favorite titles, offering unique personal histories along with suggestions for every bibliophile.
Unpacking My Library: Writers and Their Books features the personal libraries of Alison Bechdel, Stephen Carter, Junot Díaz, Rebecca Goldstein and Steven Pinker, Lev Grossman and Sophie Gee, Jonathan Lethem, Claire Messud and James Wood, Philip Pullman, Gary Shteyngart, and Edmund White.
---
The Book in History, The Book as History New Intersections of the Material Text edited by Heidi Brayman, Jesse M. Lander, and Zachary Lesser
Uniting eighteen leading critics in early modern literary studies, this volume explores book history and the material text. The essays incorporate a broad range of subjects, such as gender and sexuality, religion, postcolonial theory, political and economic history, adaptation and appropriation, historical formalism, and digital humanities. With essays on Shakespeare, Spenser, Milton, and others, this volume makes early modern literary studies and book history accessible and will be a core resource in the field for years to come.
---
Strange Bird: The Albatross Press and the Third Reich by Michele K. Troy
The first book about the Albatross Press, a Penguin precursor that entered into an uneasy relationship with the Nazi regime to keep Anglo-American literature alive under fascism:
The Albatross Press was, from its beginnings in 1932, a "strange bird": a cultural outsider to the Third Reich but an economic insider. It was funded by British-Jewish interests. Its director was rumored to work for British intelligence. A precursor to Penguin, it distributed both middlebrow fiction and works by edgier modernist authors such as D. H. Lawrence, Virginia Woolf, James Joyce, and Ernest Hemingway to eager continental readers. Yet Albatross printed and sold its paperbacks in English from the heart of Hitler's Reich.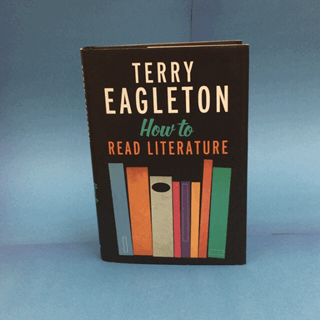 What makes a work of literature good or bad? How freely can the reader interpret it? Could a nursery rhyme like Baa Baa Black Sheep be full of concealed loathing, resentment, and aggression? In this accessible, delightfully entertaining book, Terry Eagleton addresses these intriguing questions and a host of others. How to Read Literature is the book of choice for students new to the study of literature and for all other readers interested in deepening their understanding and enriching their reading experience.
The Poet of Them All: William Shakespeare and Miniature Designer Bindings from the Collection of Neale and Margaret Albert by Elisabeth R. Fairman, with an essay by James Reid-Cunningham
Showcasing a unique and extensive private collection that is soon to be acquired by the Yale Center for British Art, The Poet of Them All illustrates almost one hundred of Neale and Margaret Albert's miniature books, each one intricately constructed and rendered in precise detail at less than three inches in height. Imaginatively hand-bound by some of today's most accomplished bookbinders, the selection features custom miniature editions of publications by William Shakespeare and related to his works, preceded by an in-depth essay from leading book historian, conservator, and artist James Reid-Cunningham. Revealing an underexplored facet of contemporary book arts, this publication illustrates the remarkable singularity of the Alberts' collection, providing both comprehensive views and the scholarly context necessary to fully appreciate the significance of these distinctive objects.
---
A Little History of Literature by John Sutherland
This 'little history' takes on a very big subject: the glorious span of literature from Greek myth to graphic novels, from The Epic of Gilgamesh to Harry Potter. John Sutherland is perfectly suited to the task. He has researched, taught, and written on virtually every area of literature, and his infectious passion for books and reading has defined his own life. Now he guides young readers and the grown-ups in their lives on an entertaining journey 'through the wardrobe' to a greater awareness of how literature from across the world can transport us and help us to make sense of what it means to be human. Sutherland introduces great classics in his own irresistible way, enlivening his offerings with humor as well as learning: Beowulf, Shakespeare, Don Quixote, the Romantics, Dickens, Moby Dick, The Waste Land, Woolf, 1984, and dozens of others.
---
The Voynich Manuscript edited by Raymond Clemens, with an Introduction by Deborah Harkness
The first authorized copy of this mysterious, much-speculated-upon, one-of-a-kind, centuries-old puzzle. The Voynich Manuscript is produced from new photographs of the entire original and accompanied by expert essays that invite anyone to understand and explore the enigma.
Many call the fifteenth-century codex, commonly known as the "Voynich Manuscript," the world's most mysterious book. Written in an unknown script by an unknown author, the manuscript has no clearer purpose now than when it was rediscovered in 1912 by rare books dealer Wilfrid Voynich. The manuscript appears and disappears throughout history, from the library of the Holy Roman Emperor Rudolf II to a secret sale of books in 1903 by the Society of Jesus in Rome. The book's language has eluded decipherment, and its elaborate illustrations remain as baffling as they are beautiful. For the first time, this facsimile, complete with elaborate folding sections, allows readers to explore this enigma in all its stunning detail, from its one-of-a-kind "Voynichese" text to its illustrations of otherworldly plants, unfamiliar constellations, and naked women swimming though fantastical tubes and green baths.
---
The Country House Library by Mark Purcell
Beginning with new evidence that cites the presence of books in Roman villas and concluding with present day vicissitudes of collecting, this generously illustrated book presents a complete survey of British and Irish country house libraries. Replete with engaging anecdotes about owners and librarians, the book features fascinating information on acquisition bordering on obsession, the process of designing library architecture, and the care (and neglect) of collections. The author also disputes the notion that these libraries were merely for show, arguing that many of them were profoundly scholarly, assembled with meticulous care, and frequently used for intellectual pursuits. For those who love books and the libraries in which they are collected and stored, The Country House Library is an essential volume to own.
---
The Woman Reader by Belinda Jack
This lively story has never been told before: the complete history of women's reading and the ceaseless controversies it has inspired. Belinda Jack's groundbreaking volume travels from the Cro-Magnon cave to the digital bookstores of our time, exploring what and how women of widely differing cultures have read through the ages.
Jack traces a history marked by persistent efforts to prevent women from gaining literacy or reading what they wished. She also recounts the counter-efforts of those who have battled for girls' access to books and education. The book introduces frustrated female readers of many eras—Babylonian princesses who called for women's voices to be heard, rebellious nuns who wanted to share their writings with others, confidantes who challenged Reformation theologians' writings, nineteenth-century New England mill girls who risked their jobs to smuggle novels into the workplace, and women volunteers who taught literacy to women and children on convict ships bound for Australia.
---
The Allure of the Archives by Arlette Farge; translated by Thomas Scott-Railton; foreword by Natalie Zemon Davis
An exquisite appreciation of the distinctive rewards of historical research and a classic guide to the personal yet disciplined craft of discovery, now in its first English translation.
Arlette Farge's Le Goût de l'archive is widely regarded as a historiographical classic. While combing through two-hundred-year-old judicial records from the Archives of the Bastille, historian Farge was struck by the extraordinarily intimate portrayal they provided of the lives of the poor in pre-Revolutionary France, especially women. She was seduced by the sensuality of old manuscripts and by the revelatory power of voices otherwise lost. In The Allure of the Archives, she conveys the exhilaration of uncovering hidden secrets and the thrill of venturing into new dimensions of the past.
---
It is easy to forget in our own day of cheap paperbacks and mega-bookstores that, until very recently, books were luxury items. Those who could not afford to buy had to borrow, share, obtain secondhand, inherit, or listen to others reading. This book examines how people acquired and read books from the sixteenth century to the present, focusing on the personal relationships between readers and the volumes they owned. Margaret Willes considers a selection of private and public libraries across the period—most of which have survived—showing the diversity of book owners and borrowers, from country-house aristocrats to modest farmers, from Regency ladies of leisure to working men and women.
Exploring the collections of avid readers such as Samuel Pepys, Thomas Jefferson, Sir John Soane, Thomas Bewick, and Denis and Edna Healey, Margaret Willes also investigates the means by which books were sold, lending fascinating insights into the ways booksellers and publishers marketed their wares. For those who are interested in books and reading, and especially those who treasure books, this book and its bounty of illustrations will inform, entertain, and inspire.
---
An Inspiration to All Who Enter: Fifty Works from Yale University's Beinecke Rare Book and Manuscript Library edited by Kathryn James
In celebration of the fiftieth anniversary of Yale University's Beinecke Library, one of the world's great bibliographic treasure houses, comes this sumptuously illustrated volume of fifty of the Library's most prized rare books and manuscripts. Selected by the Library's curators and accompanied by insightful and accessible texts, the featured works range from recently acquired items from living authors and poets to some of the most famous, rare, and notorious books in history. Among these works are the original map of the Lewis and Clark expedition, James Joyce's proof sheets to Anna Livia Plurabelle, a song printed on papyrus from the second-century Roman Empire, the Voynich manuscript, a poem-painting by Susan Howe, Langston Hughes's Montage of a Dream Deferred in original manuscript form, and many others.
---
Latest Readings by Clive James
An esteemed literary critic shares his final musings on books, his children, and his own impending death
In 2010, Clive James was diagnosed with terminal leukemia. Deciding that "if you don't know the exact moment when the lights will go out, you might as well read until they do," James moved his library to his house in Cambridge, where he would "live, read, and perhaps even write." James is the award-winning author of dozens of works of literary criticism, poetry, and history, and this volume contains his reflections on what may well be his last reading list. A look at some of James's old favorites as well as some of his recent discoveries, this book also offers a revealing look at the author himself, sharing his evocative musings on literature and family, and on living and dying.