Dana E. Byrd and Frank H. Goodyear —
Research projects can begin in many different ways. Winslow Homer and the Camera began with a phone call from a man named Neal Paulson who lives in Scarborough, Maine, and who claimed to own Winslow Homer's camera. The call was a surprise to the two of us—not simply because we didn't know Paulson, but also because we never knew that Homer owned a camera or was interested in photography.  As scholars of American art and photography, we were familiar with studies about nineteenth-century artists such as Thomas Eakins and Edgar Degas who added photography to their practice. Some artists embraced this new visual technology; most eschewed or were ambivalent about it.  We assumed that Homer belonged to the latter group.
Three clues enabled us ultimately to confirm Paulson's claim that the camera belonged to Homer. First, the initials "W.H." and the date "Aug 15, 1882" were inscribed on the camera's wooden plate holder. Homer was good about putting his name on his possessions, as numerous signed artifacts in the Winslow Homer Collection at the Bowdoin College Museum of Art reveal.  We shared a reproduction of the initials with several scholars who suggested that they looked to be the product of Homer's hand. The second clue was a manufacturer's plate that indicated the camera came from Mawson & Swan, a photographic firm in Newcastle-upon-Tyne. In 1882, Homer resided in Cullercoats, England, a small coastal fishing village on the North Sea that was only a short distance from Newcastle. We found the final set of clues within Bowdoin's Winslow Homer Collection. In addition to artifacts and papers belonging to the artist, the Collection also contains approximately a hundred photographs. In the past these photographs have been described as personal snapshots and family images that Homer collected. Looking more closely at them, we realized that a small group were the same size and format as the photographs that the Mawson & Swan camera produced. These various clues led us to attribute the camera as Homer's. Sensing our enthusiasm, Paulson presented the camera to the Museum as a gift.
In reviewing the voluminous literature about Homer, we discovered that several scholars—including Patricia Junker, David Tatham, and John Wilmerding—made a passing mention to Homer's engagement with photography. However, no scholar had made a comprehensive study of the topic.  Knowing now that Homer collected and made his own photographs, we decided to explore further the significance of photography to his practice.
Only one photograph taken by the artist in England with his Mawson & Swan camera survives. Pasted into a copy of Michel-Eugene Chevreul's Laws of the Contrast of Color, it is technically poor, yet it is awfully important. The underexposed photograph offers a silhouetted view of a Cullercoats coble, a flat-bottomed open boat traditionally used for fishing in North England. In the late nineteenth century, these traditional boats were regarded with some nostalgia as they were being increasingly replaced by fishing trawlers. In the 1860s, Homer's older brother Charles had gifted the painter the Chevreul volume. Winslow later referred to it, in conversations with an early biographer, as his painting "Bible." Throughout his life, Homer annotated the volume, making notes, and even sketching into it; in other words, he treated it as if it was a family bible, a place to record important art-making information. By pasting this photograph into a volume that was instrumental in the development of the artist's painting, the Chevreul volume becomes a material manifestation of the intersections between painting, photography, and travel in Homer's practice.
In Winslow Homer in the 1890s: Prout's Neck Observed, Patricia Junker demonstrated how Homer incorporated the fishing boat in this photograph as an element in his watercolor, "The Breakwater, Cullercoats" (1882).  This example of a technically poor photograph included in a painting book and used as a source material for a watercolor may seem remote from the traditional concerns of Winslow Homer's oeuvre, which have to do with style, technique, and subject matter. Yet it provides a reminder, and the opportunity to rethink the influence of photography on his art.  Homer made photographs, but he also incorporated them—and more significantly photographic thinking—into his practice long before he ever held a camera. While the discovery of Homer's camera initially surprised us, we came to understand that photography's introduction did not undermine his work, but instead complemented his dedication to painting the world as it is.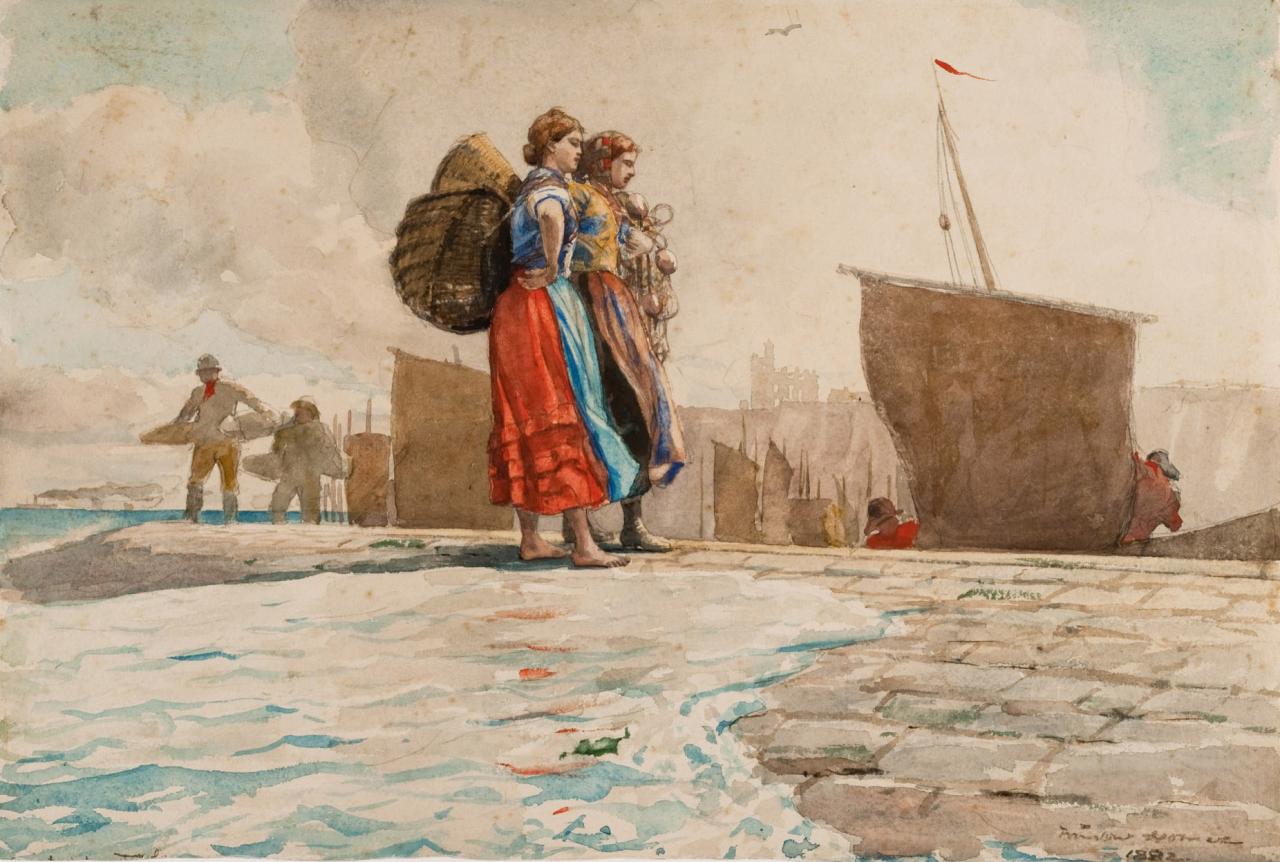 ---
Dana E. Byrd is assistant professor of art history at Bowdoin College. Frank H. Goodyear III is co-director of the Bowdoin College Museum of Art.
Further reading: