Dominic Bradbury–
Migration has become one of the defining subjects of our time. It has helped to shape contemporary politics in both Europe and America, as well as other parts of the world, and has become a constant topic of debate. It is well worth taking a moment, given this context, to remember the impact of migration during the late thirties, when the world was on the move and thousands upon thousands fled fascist dictatorships in Germany, Italy and Spain. During the Second World War, of course, refugees added millions to this flow.
Within the sphere of architecture and design, in particular, the impact of such migration was profound. Many architects, such as Lina Bo Bardi and Antonio Bonet, made their way to South America and played a part in shaping the evolution of regional modernism; Harry Seidler traveled via America and South America to Australia, where his work was also highly formative within the country's shift towards modernism.
Yet the greatest example of creative cross-pollination was the arrival in America of a number of modernist pioneers who played an important in the birth of the movement and its ongoing evolution. Most famously, there was great triumvirate of former Bauhaus masters: Ludwig Mies van der Rohe, Walter Gropius and Marcel Breuer.
One of the few architects to inspire an adjective ('Mies-ian"), Mies van der Rohe arrived in America in 1938, becoming the director of the Armour Institute of Technology in Chicago and founding his practice in the city; he became an American citizen in 1944. The influence of his house for Edith Farnsworth (1951) was extraordinary in itself – an iconic home that developed, among other things, the concept of open plan living, inside-outside spatial relationships (made possible by curtain walls and banks of glass) and the service core. Mies' work helped to shape the ongoing development of American modernism, including its houses and skyscapers. His disciples included, of course, Philip Johnson who designed his own Glass House on the Mies-ian model and spread the gospel.
Gropius and Breuer took up teaching posts at Harvard and began practicing architecture in Massachusetts. Again, their influence was of great importance and not only upon younger generations of their own students at the Harvard Graduate School of Design. They fused the lessons of the Bauhaus and modernist principles with the context of New England, designing and building houses and cabins that connected with this landscape and made use of local stone and timber. Enjoying the summer season on Cape Cod, Gropius and Breuer also helped to encourage the growth of a modernist colony of architects and artists at Wellfleet.
On the West Coast, émigrés from Germany and other parts of Europe also played a vital role in the progression of Californian or desert modernism. Richard Neutra and Rudolph Schindler arrived in the Twenties and Neutra's Lovell Health House, which helped seal his reputation, was completed in 1929. Neutra's Kaufmann House of 1947, in Palm Springs, has become the archetypal desert modern residence with its pin-wheel design and blurred boundaries between inside and outside space. Albert Frey, who helped to define the mid-century modern aesthetic of Palm Springs, was Swiss and arrived in America in 1930.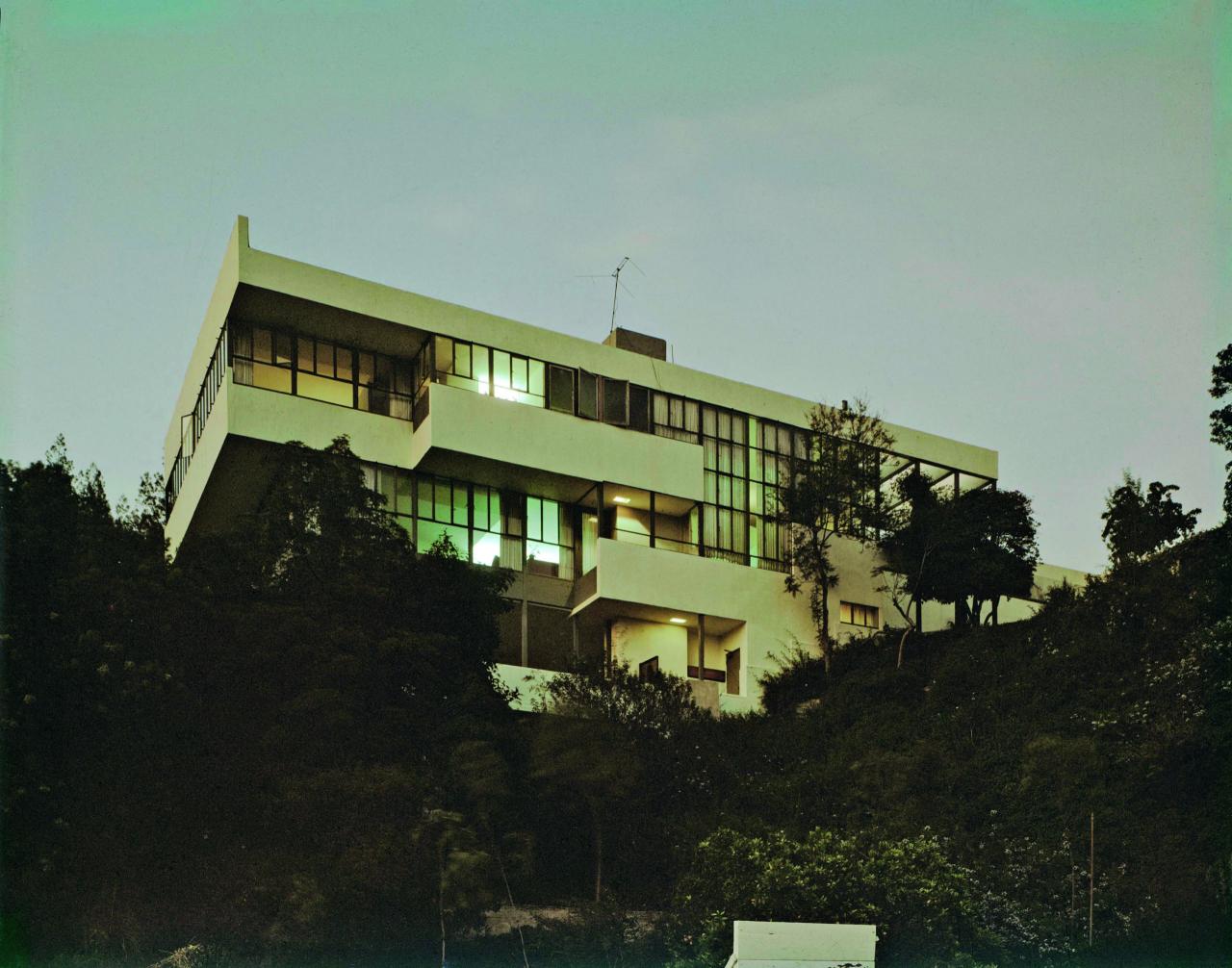 Within the wider field of modernist and mid-century American design, the influence of the émigrés was also dynamic. One thinks of the German-born designer Kem Weber, who settled in California and pioneered streamlined furniture during the Twenties, including his famous Airline Chair (c. 1934) and early experiments with flat pack furniture.
In the field of ceramics, there is the example of Marguerite Wildenhain. A 'master potter' trained in the ceramics workshop of the Bauhaus, Wildenhain arrived in America in 1940 and settled in Sonoma County, California, where she continued her work, writing and teaching at the artists' colony of Pond Farm. Josef Albers, another Bauhaus exile, taught at the Black Mountain College in North Carolina and then at Yale, developing his pioneering work on color theory and inspiring a new generation of abstract artists and mid-century graphic designers. His wife, Anni Albers, took a parallel path within the world of textile design and her book, On Weaving (1965), was seen as one of the most important 'manifestos' within the discipline.
The list goes:  Lucian Bernard in the field of typology; legendary art director Alexey Brodovitch; furniture impresario Hans Knoll; photographer and graphic designer Herbert Matter; silversmith Peter Muller-Munk, architect and educator Josep Lluis Sert and ceramicist Eva Zeisel. All made their way from Europe to America in the period between the wars.
It's always a challenge to play the game of 'what if'. What if the modernist émigrés had never made their way from Europe to America? What would the impact have been upon American architecture and design? It's impossible to say for sure, of course, but we can say – surely – that American architecture and design would have been poorer without them rather than richer. In a new age of walls and hard borders, this could be a lesson from the past to keep in mind for the present and the future.
---
Dominic Bradbury is a design and architecture writer who contributes regularly to House & Garden, the Daily Telegraph, the Sunday Times, and Wallpaper*.
---
Further reading:
---
P.S. It's University Press Blog Tour Week!  All week long, UPs from across North America will be offering fascinating posts around daily themes.  Check out other posts on today's theme, Arts & Culture, from MIT Press, Athabasca University Press, Rutgers University Press, University of Arizona Press, Duke University Press, and the University of Minnesota Press.