We have all heard the news, read the stories, watched the footage—America has reached a crossroads on racial injustice. The path forward may be challenging, but as a contributor to the global understanding of human affairs, we hope our books will help inform the public consciousness and promote tolerance for a brighter future. Lux et veritas.
Read the Association of University Presses Equity and Anti-Racism Statement.
Use code YUPHRR on yalebooks.com to receive 30% off and free shipping via Mail Innovations on these titles, now through 6/30/20.
---
From a highly respected thinker on race, gender, and American politics, a new consideration of black women and how distorted stereotypes affect their political beliefs.
In this groundbreaking book, Melissa V. Harris-Perry uses multiple methods of inquiry, including literary analysis, political theory, focus groups, surveys, and experimental research, to understand more deeply black women's political and emotional responses to pervasive negative race and gender images. Not a traditional political science work concerned with office-seeking, voting, or ideology, Sister Citizen instead explores how African American women understand themselves as citizens and what they expect from political organizing.
Buy the Book
IndieBound | bookshop.org | Barnes and Noble | Amazon
Special eBook pricing of $1.99
---
Winner of the Los Angeles Times Book Prize in History

"Makes a vital contribution to our understanding of our past and present."—Parul Sehgal, New York Times
They Were Her Property makes a bold argument about the role of white women in American slavery. Historian Stephanie E. Jones-Rogers shows that slave-owning White women were sophisticated economic actors who directly engaged in and benefited from the South's slave market and used it for social empowerment. By examining the economically entangled lives of enslaved people and slave-owning women, Jones-Rogers forces us to rethink the economics and social conventions of slaveholding America.
Buy the Book
IndieBound | bookshop.org | Barnes and Noble | Amazon
---
A monumental work, decades in the making: the first atlas to illustrate the entire scope of the transatlantic slave trade.
Using maps, David Eltis and David Richardson show which nations participated in the slave trade, where the ships involved were outfitted, where the captives boarded ship, and where they were landed in the Americas, as well as the experience of the transatlantic voyage. Accompanying the maps are illustrations and poems, letters, and diary entries. Atlas of the Transatlantic Slave Trade provides the fullest possible picture of the extent and inhumanity of one of the largest forced migrations in history.
Buy the Book
IndieBound | bookshop.org | Barnes and Noble | Amazon
---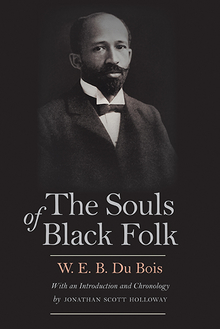 "We need Du Bois now more than ever"—Adam Bradley, University of Colorado, Boulder
This collection of essays by scholar-activist W. E. B. Du Bois is a masterpiece in the African American canon. Du Bois, arguably the most influential African American leader of the early twentieth century, offers insightful commentary on black history, racism, and the struggles of black Americans following emancipation. In The Souls of Black Folk, the author offers powerful arguments for the absolute necessity of moral, social, political, and economic equality. A new introduction by Jonathan Scott Holloway explores Du Bois's signature accomplishments while helping readers to better understand his writings in the context of his time as well as ours.
Buy the Book
IndieBound | bookshop.org | Barnes and Noble | Amazon
---
A stunning visual history of the civil rights movement.
The story of visual culture's role in the modern civil rights movement is rarely included in its history. For All the World to See is the first comprehensive examination of the ways images mattered in the struggle, and it investigates a broad range of media including photography, television, film, magazines, newspapers, and advertising. In each case, the war against racism was waged through pictures. Through vivid storytelling and incisive analysis, this powerful book allows us to see and understand the crucial role that visual culture played in forever changing a nation.
Buy the Book
IndieBound | bookshop.org | Barnes and Noble | Amazon
---
"Warren's book remains a luminous volume about race, racism, the South, black America, and our national destiny"—Arnold Rampersad, Stanford University
In 1964, Robert Penn Warren interviewed leaders, activists, and artists engaged in the U.S. Civil Rights Movement. His interviewees included well-known figures such as Reverend Martin Luther King, Jr., Malcolm X, and James Baldwin, as well as lesser-known individuals whose names might otherwise be lost to history. Transcripts from these interviews, combined with Warren's reflections on the movement, were first published in 1965. Who Speaks for the Negro? serves as a powerful oral history of an all-important struggle. A new introduction by David W. Blight places the book in historical perspective.
Buy the Book
IndieBound | bookshop.org | Barnes and Noble | Amazon
Special eBook pricing of $1.99
---
A ground-breaking, magisterial account of the potential and failures of Christianity since the colonialist period.
Why has Christianity, a religion premised upon neighborly love, failed in its attempts to heal social divisions? In The Christian Imagination, Willie James Jennings delves deep into the late medieval soil in which the modern Christian imagination grew, to reveal how Christianity's highly refined process of socialization has inadvertently created and maintained segregated societies. A probing study of the cultural fragmentation—social, spatial, and racial—that took root in the Western mind, this book shows how Christianity has consistently forged Christian nations rather than encouraging genuine communion between disparate groups and individuals.
Buy the Book
IndieBound | bookshop.org | Barnes and Noble | Amazon
---
Who were the two fifteen-year-old girls from Little Rock—one black, one white—in one of the most unforgettable photographs of the civil rights era?
The image from September 1957 is well known: a black high school girl, dressed in white, walking stoically in front of Little Rock Central High School, and a white girl standing directly behind her, face twisted in hate. In Elizabeth and Hazel, David Margolick tells the remarkable story of two separate lives unexpectedly braided together. The book follows the painful journey of the two as they progress from apology to forgiveness to reconciliation and, amazingly, to friendship. This friendship foundered, then collapsed over the same fissures and misunderstandings that continue to permeate American race relations more than half a century later.
Buy the Book
IndieBound | bookshop.org | Barnes and Noble | Amazon
Special eBook pricing of $1.99
---
Winner of the 2017 Frederick Douglass Prize
A groundbreaking history that recovers the largely forgotten role of African Americans in the long march toward emancipation from the Revolution through the Civil War.
Manisha Sinha overturns the image of abolitionists as bourgeois, mostly white reformers and recasts abolition as a radical social movement in which men and women, black and white, free and enslaved found common ground in causes ranging from feminism and utopian socialism to anti-imperialism and efforts to defend labor rights. The Slave's Cause illustrates how the abolitionist vision ultimately linked the slave's cause to the struggle to redefine American democracy and human rights across the globe.
Buy the Book
IndieBound | bookshop.org | Barnes and Noble | Amazon
---
A passionate, rigorous, and persuasive look at the helpful complexity of art during a time of profound cultural turmoil.
By turns historical, critical, and personal, this book examines the use of art as a resource amid the recent wave of shootings by American police of innocent black women and men. Darby English attends to a cluster of artworks created in or for our tumultuous present that address themes of racial violence and representation idiosyncratically, neither offering solutions nor accommodating shallow narratives about difference. Powerful, challenging, and timely, To Describe a Life is an invitation to rethink what life in ongoing crisis is and can be and to discover how art can help.
Buy the Book
IndieBound | bookshop.org | Barnes and Noble | Amazon
---
The powerful story of slavery that has become a classic of American autobiography, in an authoritative edition.
"This edition is the most valuable teaching tool on slavery and abolition available today. It is exceptional."—Nancy Hewitt, Distinguished Professor Emerita, Rutgers University
In 1845, just seven years after his escape from slavery, the young Douglass published this powerful account of his life as a slave and his triumph over oppression. Narrative of the Life of Frederick Douglass, An American Slave, which marked the beginning of Douglass's career as an impassioned writer, journalist, and orator for the abolitionist cause, reveals the terrors he faced as a slave, the brutalities of his owners and overseers, and his harrowing escape to the North.
Buy the Book
IndieBound | bookshop.org | Barnes and Noble | Amazon
---
The story of our separate and unequal America in the making, and one man's fight against it.
Free the Beaches is the first book to tell the story of the controversial protester who gathered a band of determined African American mothers and children and challenged the racist, exclusionary tactics of homeowners in Connecticut. During the long, hot summers of the late 1960s and 1970s, anti-poverty activist and one-time presidential candidate Ned Coll began a campaign to open some of America's most exclusive beaches to minorities and the urban poor. Coll's legacy of remarkable successes—and failures—illuminates how our nation's fragile coasts have become even more exclusive in subsequent decades.
Buy the Book
IndieBound | bookshop.org | Barnes and Noble | Amazon
---
For further reading on race relations in the U.S. from university publishers,
visit Books for Understanding.