Elizabeth Ferrell–
Episode 4 of Netflix's Inventing Anna (2022) includes a scene inside the Whitney Museum of American Art in New York City. Featured prominently in the background is Jay DeFeo's The Rose, a massive abstract painting on which DeFeo worked almost exclusively from 1958 to 1966. In the show, The Rose frames, like an angelic aura, or perhaps more like a dart-board, the head of one of the marks of the swindling faux-heiress Anna Sorokin. But this cameo also communicates a more optimistic message: that the canon of postwar art is expanding, and that major museums and media content producers alike are giving prominence of place to works by artists representing historically underrepresented groups. Here's hoping this increasing inclusivity encourages new research into the works and lives of artists like DeFeo, whose work is central to the arguments in my own book, About The Rose: Creation and Community in Jay DeFeo's Circle.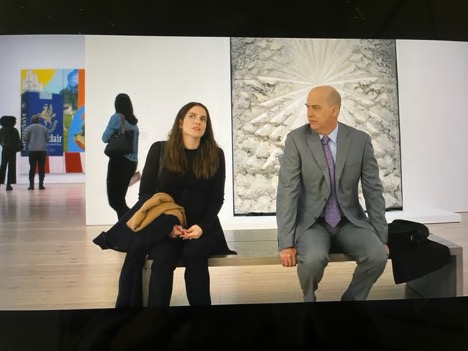 The book uses DeFeo's monumental painting as a lens through which to examine the collaborative dimension of her art practice during her time in the Fillmore District of San Francisco in the 1950s and '60s. DeFeo's friends and neighbors, themselves artists and poets, not only witnessed The Rose's long production in DeFeo's apartment-cum-studio, but also produced photographs, paintings, poems, and even a film about the work. And, as About The Rose explains, DeFeo often responded to her friends' artistic interpretations of her painting by creating collages that she presented to them as gifts.
These exchanges defied typical modes of artistic collaboration in which multiple artists jointly create a single work; instead there was a call-and-response, dialogical dynamic to the exchanges as artists recycled one another's works, either physically or conceptually, into new works. I call this kind of collaboration "interindividual" because it preserves each artist's individual agency while bringing their practices into dialog. Evidence from the artists' letters, diaries, and snapshots shows that the interindividual collaborations that occurred around and about The Rose became vehicles for artists to experiment with constellations between self and other that spoke directly to pervasive midcentury anxieties about the relationship between individual and society, concerns that refracted through the bohemian art world of postwar San Francisco in complex ways. One among many results of these experiments was a new model of authorship, formed around The Rose, that countered the autonomy associated with abstract expressionism by attempting to strike a balance between individual and community, self and other.
In the Inventing Anna scene described above, Anna's mark and a reporter investigating Anna's story converse about Jackson Pollock's Number 27 (1950), which hangs opposite The Rose at the Whitney. No prizes for guessing that white male icons of American individualism remain touchstones for the interpretation of postwar American art in the popular imagination. But the scene shows as well that other artists, and other ways of working, are now emerging in that same imagination, bringing welcome attention to alternative narratives of postwar art. About The Rose's description of interindividualism, and of the collaborative practices of DeFeo's Fillmore circle in general, is one of these, and hopefully but one of many more to come.
---
Elizabeth Ferrell is associate professor of art history at Arcadia University.