Betsy Johnson—
When concept enters Chinese photography, it is as if a window suddenly opens in a room that has been sealed for years. We can now breathe comfortably, and we now reach a new meaning of "new photography."

—Rong Rong and Liu Zheng, preface, New Photo, no. 3, 1997
In 1997, when Beijing-based artists Rong Rong and Liu Zheng included the above statement in New Photo, a self-published magazine composed of photocopies that they bound together by hand, it was evident that photography in China had diverged from Maoist conventions and set off on a new path. After decades of prioritizing the collective, a new focus on the individual arose, and with it came a conceptual liberation that freed artists from political and institutional constraints on how art is made and what it should be. In a striking change from previous generations, artists untrained in photography began to pick up the camera to explore its potential for cross-disciplinary art-making. The merger of conceptual practice with photography created a novel artistic environment ripe for experimentation.
The beginning of the contemporary experimental art scene in China dates to the 1980s. After decades of isolation and strict control over artistic expression, the end of the Cultural Revolution in 1976 ushered in an era of openness, including international exchange, a flourishing of intellectual activity, and the creation of a robust artistic avant-garde. This exhilarating burst of freedom came to an abrupt halt in 1989, when the government violently crushed pro-democracy protests at Tiananmen Square.
After Tiananmen, Chinese artists faced tight restrictions on official exhibitions and freedom of speech. Many chose to flee the country, but others who remained in China went underground, organizing their own exhibitions, publications, and events with the limited means available to them. On the eastern side of the dynamically changing city of Beijing, a short-lived artist community emerged that came to be called Beijing's East Village. A fertile hub from 1993 to 1994, the area was named after New York's East Village, where prominent dissident artist Ai Weiwei had lived before returning to Beijing in 1993 after a decade abroad. In Beijing's East Village, avant-garde artists came together to create work that was often provocative, testing authorities and sometimes leading to arrests.
Rong Rong became a key protagonist in the Beijing art scene after moving there in the early 1990s to pursue his career as an artist. He had grown up in a small village in Southern China, and his first experience with a camera was offered by a village photographer who took annual portraits of his family and, one year, let him try out his twin-lens Seagull (made by the oldest camera company in China).[1] Fascinated, Rong Rong rented the camera from the photographer at a daily rate until he was able to save enough money to buy his own. After moving to Beijing, he soon made his way to the East Village and quickly integrated himself into the community by documenting its activities in photographs. His images offer an intimate view into performances and installations by artists such as Zhang Huan, Ma Liuming, and Cang Xin, bestowing a monumentality upon these artworks—often fleeting and ephemeral—that has facilitated their incorporation into the historical record.
At the same time, the 1990s was a decade of great economic and cultural transformation in China. Following Deng Xiaoping's 1978 announcement of the Open Door Policy, the country began to participate more fully in global markets. Foreign investors were encouraged through the establishment of Special Economic Zones offering tax and business incentives, ultimately leading to the rise of megacities driven by industry and technology. Foreign business had a tremendous impact on Chinese artists, as it connected them to an international art world: many artists began to travel and exhibit abroad, and by the mid-'90s, international art galleries had established a presence in major Chinese cities, including Beijing and Shanghai. Urban centers were in a constant state of upheaval, with populations moving in from rural areas and construction transforming the built landscape in ways once unimaginable.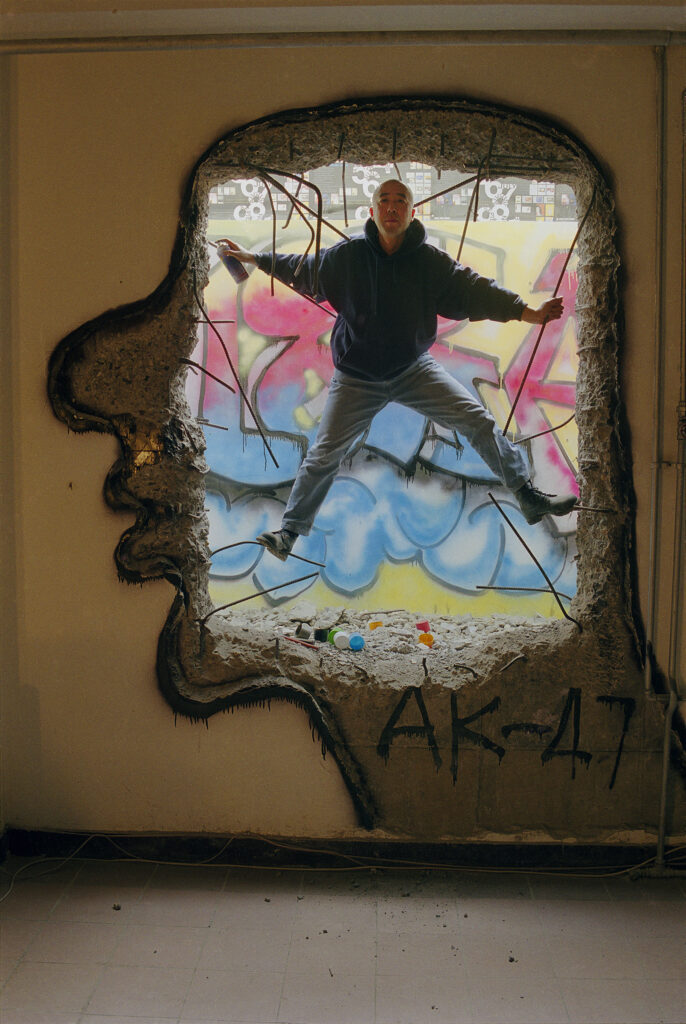 Artists who had been trained in more traditional media recognized the camera's unique capacity to capture and distill the dizzying transformation of the world around them. Zhang Dali, for example, had spent part of the early '90s in Italy, where he came to appreciate the use of nontraditional processes and everyday materials in art. He shifted his practice from ink painting to graffiti and photography, both of which he viewed as weapons against the restrictions of mainstream culture. He adopted the silhouette of a bald man accompanied by the text "AK-47" as his trademark motif, and, after returning to China in 1995, he spray-painted it more than two thousand times across abandoned sites in Beijing, generating widespread public speculation over the source of these enigmatic images. Revealing his identity in 1998, he explained, "This head is a condensation of my own likeness as an individual. It serves as my stand-in in communication with this city. I want to know everything about this city—its state of being, its transformation, its structure. I called this project Dialogue."[2]
As technological advances enabled artists to move from darkrooms to computers and into virtual realms, photography pushed beyond the limits of reality, opening novel windows of insight and experience. The Internet grew quickly once it was established in China, skyrocketing from 3,000 users in early 1995 to 111 million ten years later.[3] Around the same time, digital photography became more prevalent with the introduction of the first available camera phone, the Nokia 7650, in 2002 and the iPhone in 2009. By 2022, China was estimated to have more than a billion smartphone users as well as accounting for over half of the global virtual reality market. Although the Chinese government's use of technology to enforce censorship and control over its population is well documented—its highly sophisticated Internet censorship system, known colloquially as the Great Firewall, has existed since 2000—new technological tools continually emerge to help people get around the wall.
Artists born after the end of the Cultural Revolution in 1976 had a dramatically different experience than those who lived through a time when art was controlled by the state. With the rise of the Internet, many younger artists, such as Cao Fei and LuYang, have explored virtual space as a site full of potential, where identity can be freed from societal constraints and the world can be reimagined. In 2007, Cao Fei began a multiyear project, RMB City, that used the Second Life gaming platform to create an imagined Chinese city in the cloud. Incorporating iconic architectural structures from modern-day China, such as Beijing's futuristic CCTV headquarters building, which in her interpretation precariously overhangs the city from a construction crane, and Beijing National Stadium (a.k.a. the "Bird's Nest"), which was created for the 2008 Olympics, RMB City is a virtual amusement park where the old and new haphazardly converge.
Working primarily in the virtual realm, LuYang creates videos, lightboxes, and installations that are grounded in a philosophical investigation of what it means to live in an era when much of our time is spent online. LuYang embraces the freedom that this brings through the creation of alter egos who are characterized by multiplicity, such as DOKU, a nonbinary avatar whom we follow on a journey of reincarnation through the six realms of the Buddhist cosmology in a frenetic mash-up of religion, philosophy, science, and popular culture. LuYang's ongoing collaboration with DOKU offers a thought-provoking glimpse of how life in the digital realm might come to exist independently of, and perhaps even supplant, life on earth. It is the ultimate exploration of contemporary reality, as a new citizen in a new world, plumbing the depths of individual potential.
A Window Suddenly Opens: Contemporary Photography in China, an exhibition featuring 186 works by 25 artists who have revolutionized the medium of photography in China over the past 30 years, is on view at the Hirshhorn Museum and Sculpture Garden in Washington, DC, through January 7, 2024. The exhibition catalogue, copublished with Yale University Press, includes texts written by many of the artists as well as contributions from key scholars in the field.
---
Betsy Johnson is assistant curator at the Hirshhorn Museum and Sculpture Garden.
---
[1] Rong Rong recounts this story in an interview with Karen Smith published as "Karen's Interview with Rong Rong," New Photo 10 Years (Beijing: Carolina Nitsch and Chambers Fine Art in association with Three Shadows Contemporary Art Center, 2007), 29.
[2] Zhang Dali quoted in Wu Hung, Contemporary Chinese Art: A History: 1970s–2000s (London and New York: Thames & Hudson, 2014), 190.
[3] See Graham Webster, "A Brief History of the Chinese Internet," Logic Magazine, no. 7 (May 1, 2019), logicmag.io/china/a-brief-history-of-the-chinese-internet.