February is Black History Month! It's a time, as President Ford put it, to "honor the too-often neglected accomplishments of black Americans in every area of endeavor throughout our history." Here are ten books to check out this month, each of which contributes to a fuller articulation of African American history, culture, art, and life.
In Sister Citizen, Melissa Harris-Perry (whom you might recognize from MSNBC) draws on literary analysis, political theory, focus groups, surveys, and experimental research to explore how African American women understand themselves as citizens. For more, check out an interview with Harris-Perry and excerpts from her book.
Frederick Douglass's autobiographies—Narrative of the Life of Frederick Douglass, An American Slave and My Bondage and My Freedom—contain gripping accounts of his struggles against oppression. His impassioned prose and powerful metaphors made him a key leader of the abolitionist movement, and they make his stories all the more compelling today.
Ralph Ellison is known for his masterpiece Invisible Man, but he also began Three Days Before the Shooting . . . In Ralph Ellison in Progress, Adam Bradley argues that the unfinished novel illuminates a great deal of Ellison's career, ideas, and creative work, and that Ellison's writing process itself suggests truths about race and American identity.
In Eslanda, Barbara Ransby highlights the work of Eslanda "Essie" Cardozo Goode Robeson, an anthropologist, journalist, women's rights advocate, anti-colonial and antiracist activist, and internationally sought-after speaker. She also happened to be married to Paul Robeson, but Ransby refocuses attention on Essie's own accomplishments.
Peggy and Murray Schwartz discuss the life and legacies of Pearl Primus in The Dance Claimed Me. Primus was born in Trinidad and became an influential international dancer, presenting works in the U.S. and elsewhere that incorporated social and racial protest. For more, read about Misty Copeland and the history of black ballet here.
In Red Lines, Black Spaces, Bruce D. Haynes tells the story of Runyon Heights, a community in Yonkers, New York populated by middle-class African Americans for nearly a century. Haynes uses interviews and archival research to shed light on the process of black suburbanization and to describe how race and class shape residential development.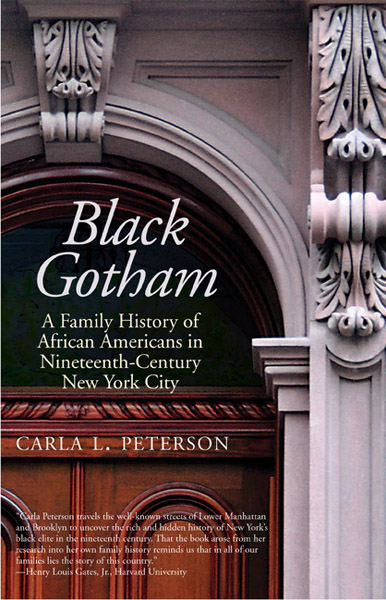 Part detective tale, part social and cultural narrative, Black Gotham is Carla Peterson's account of her quest to reconstruct the lives of her nineteenth-century ancestors. Along the way, Peterson challenges many of the accepted truths and assumptions about African American history. More on Peterson's project is available here.
In The Talking Book, Allen Callahan casts the Bible as the central character in a portrait of black America. He traces the origins of African American culture from slavery's secluded forest prayer meetings to the bright lights and bold style of today's hip-hop artists. You can listen to an interview with the author on the Yale Press Podcast here.
Joe Louis was one of the greatest boxers of all time, not only a powerful athlete but also a powerful symbol. As Randy Roberts describes in Joe Louis, the fighter embodied African American hopes for dignity at a time when the boxing ring was the only venue where black and white could meet on equal terms.