For everyone heading to the beach this Fourth of July, here's a list of books for your seaside reading. Some will inspire you, some will ask you to reflect, and some will take you on their own summer vacations. And if you don't find what you're looking for here, we recommend our Jewish Lives series, a collection of short biographies of Léon Blum, Einstein, Mark Rothko, and more. Whether you have long, lazy summer days ahead of you or are just looking for something new to read, we hope you enjoy these books, enjoy Independence Day, and have a wonderful summer!
The Narrow Edge: A Tiny Bird, an Ancient Crab, and an Epic Journey by Deborah Cramer
Start your summer by reading about the frontier where land meets sea. Deborah Cramer travels thousands of miles along the coast to trace the near-miraculous journey of the red knot. These tiny birds fly 19,000 miles from the tip of South America to their nesting grounds in the Arctic and back, relying on horseshoe crab eggs to survive. And although the red knot will likely face extinction, Cramer's story is one of resilience, both of these small birds and of those people who dedicate their lives to protecting the red knot and the coastline.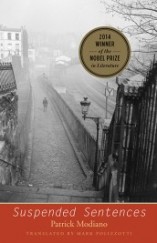 Suspended Sentences: Three Novellas by Patrick Modiano, translated by Mark Polizzotti
This collection offers an English-language introduction to one of France's most celebrated contemporary authors. Translator Mark Polizotti sensitively preserves the dreamy, precise voice of Afterimage, Suspended Sentences, and Flowers in Ruin, whose stories of memory and mystery form a kind of biography of Nazi-occupied Paris and autobiography of the author. Patrick Modiano was named the winner of the 2014 Nobel Prize in Literature "for the art of memory with which he has evoked the most ungraspable human destinies and uncovered the life-world of the occupation."
Journey of the Universe by Brian Thomas Swimme and Mary Evelyn Tucker
If you'd like your summer to be a time of reflection, this book will allow you to confront some big questions: what is our place in the 14-billion-year history of the universe? How can we understand the story of life? How do we form a community on Earth? Brian Thomas Swimme and Mary Evelyn Tucker weave together modern science and traditions from China, India, Europe, and indigenous peoples to study these questions. This book is part of a larger multimedia project, so if you'd like to continue thinking with them, you can check out their documentary, educational DVD series, and website.
It's Complicated: The Social Lives of Networked Teens by danah boyd
As you plug in (or plug out) this summer, this book offers a clear-eyed look at the use of social media. boyd examines teenage identity and privacy online, analyzes dangers from social media, and concludes that although technology reflects the societal problems faced by teens, for the large part it does not cause them. boyd challenges common assumptions, showing that teenagers are using social media for activities that have been around for generations: maintaining friendships, flirting, and finding their own privacy and independence. She argues that even though the networked world is complicated, the kids are all right.
When London Was Capital of America by Julie Flavell
In the decade before the American Revolution, London was the hot tourist destination. Actually, it was far more than a tourist destination—Americans flooded these central streets of the British Empire, even as England and the American colonies teetered on the brink of war. Wealthy Southern plantation owners came looking for culture, slaves came hoping for freedom, Yankee businessmen came searching for opportunity, and Ben Franklin came seeking a second, more distinguished career. In this book, Julie Flavell reminds us of the complex, multiracial, and at times even decadent nature of America's colonial British heritage.
The Library At Night by Alberto Manguel
"Libraries have always seemed to me pleasantly mad places, and for as long as I can remember I've been seduced by their labyrinthine logic." Alberto Manguel, acclaimed anthologist, novelist, editor, and author of the new book Curiosity, here has conducted an essay-like tour of all kinds of libraries. He meditates on childhood bookshelves, the Library of Alexandria, the personal libraries of Borges and Dickens, Chinese scrolls, an Afghani bookseller, a Polish librarian, and Google. Summer is a perfect season for finding books from our own libraries, whatever form they may take, and Manguel's book can help us understand how that experience is both mysterious and essential.
Featured Image: Fenocchio, Nice by candyschwartz via Flickr under a Creative Commons license (adapted)