Rachel High–
A new publication in the highly popular How to Read series, How to Read Chinese Ceramics, by Denise Patry Leidy, Brooke Russell Astor Curator of Chinese Art and an expert in the field, is perfect for students who want to learn more about this fascinating, centuries-old tradition and is just in time for the start of the school year. This book introduces readers to the principal types of Chinese ceramics and covers the progression and development of the medium, using examples from the Met's comprehensive collection.
I recently spoke with Denise about the book, the continued relevance of these objects, and her advice to students interested in studying these works.
---
Rachel High: Chinese ceramics usually bring to mind plates and vessels, but this book covers a good deal of figurative works as well. Could talk you about the purpose of those works?
Denise Patry Leidy: Figurative ceramics had many different purposes. In the earlier periods of Chinese culture, they made a lot of clay figures, largely for tombs. They were intended to be attendants to the deceased because there was a very concrete concept that in the afterlife one would need all of the things one had while living.
Later on, Chinese artisans created figures for religious purposes or representing religious figures. They must have been used devotionally and probably privately rather than in temples because they tend to be in small scale. Some may also have just been used for display.
Rachel High: As you cover in the book, these Chinese ceramics were widely circulated in Europe. Could you discuss how they made the journey there and why they were so fascinating to Westerners?
Denise Patry Leidy: In the sixteenth century, the Portuguese explorer Vasco da Gama found a sea route to the East by rounding the Cape of Good Hope around Africa to reach India. When he arrived there, he discovered a vibrant, longstanding inner-Asian trade between China, Japan, India, and the Islamic world that included porcelain, silk, and other luxuries. He brought a few examples of porcelain back to the Portuguese court. Although some examples of porcelain had crept into Europe before the sixteenth century—often as gifts from the Ottoman Empire acquired along the trade routes between China and the Islamic world—the opening of the trade routes lead to significant rise in European awareness of and desire for Chinese porcelain. The Portuguese were the first Europeans to commission works from China.
The Dutch eventually superseded the Portuguese and by that time millions of pieces were being imported into Europe, sparking a craze for not only porcelain, but all Chinese goods. It is important to remember that Europe did not have porcelain or anything like porcelain at that point in time, and people generally ate off wood, pewter, or—if they were very wealthy—silver plates.
Chinese ceramics were harder, thinner, translucent, and more hygienic because they were easier to clean. They also had imagery that came from this wondrous, faraway place. By the eighteenth century, a common phrase was la maladie de porcelaine, meaning that people were mad or crazy for these objects. Even after the Europeans became capable of producing their own porcelain in 1709, it was still thought that the Chinese works were better. If you think about it, this is why we still call our fancy dishes "china."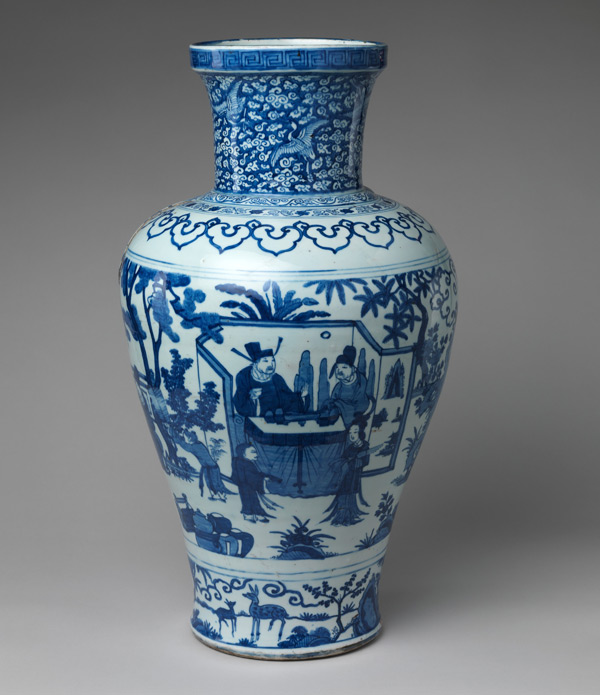 Rachel High: This topic continues to be relevant and inspiring. For example, the recent exhibition China: Through the Looking Glass and accompanying catalogue draw parallels to the subject matter of this book. Can you talk about the ways Chinese ceramics continue to be important and influential for artists today?
Denise Patry Leidy: Because of the ties between the Chinese porcelain industry and the burgeoning European porcelain industry, many Chinese shapes and motifs became part of Western ceramic traditions and remain so even today. Any working artist in the clay field today probably has in his or her mind a knowledge of shapes, sizes, techniques, and decoration that can ultimately be traced back to China. Since the 1980s, a significant number of Western artists, including Americans, have gone to study in Jingdezhen, which is the big porcelain manufacturing center in China. As a result, porcelain has become important again in studio pottery today.
Rachel High: This book is a great resource for students in particular. Do you have any advice to students interested in studying this topic?
Denise Patry Leidy: I hope that the book introduces the main types of Chinese ceramics and some of the questions that can be asked—with the caveat that any work of art asks and answers at least a hundred questions—and while no broad overview is going to give you all of the answers, this book is a good starting point. For students further interested in Chinese ceramics, I would suggest spending a lot of time, if not at the Met, at your local museum looking at all of the wonderful things on view.
---
Rachel High is an editorial assistant in the publications department at The Metropolitan Museum of Art.